Valentine's Day – A day dedicated to love and romance! What better day to propose the one you are in love with? Though, proposals can be very tricky and nerve wrecking sometimes, these Valentine's Day Proposal Ideas are so going to help you. Just make sure you plan it all right. The most important tip: Be Charming! Let that love flow through your eyes, smile, moves and actions. Okay, so here we go!
You May Also Like: 10 Best Valentine's Day Gift Ideas That Will Make Your Day Special
10 Heart Melting Valentine's Day Proposal Ideas 
1. Bend down on your knees and say it when least expected
It's never important who says it. If you really feel it then take the move. Think of something that would throw him off-guard. Something he never expects you to do. Something that none of the other girl he knows has done it. Try not to steal those cliched ideas from the movies we watch. In-short, Be Original. Just bend on your knees and speak your heart out. Dare a guy say NO!
2. Surprise her on the radio on Valentine's day
This can be the cutest way to propose on Valentine's day. Let the world witness the love of your life. And, let her feel the love in the air.
3. Take her to the place where you met the first time on this day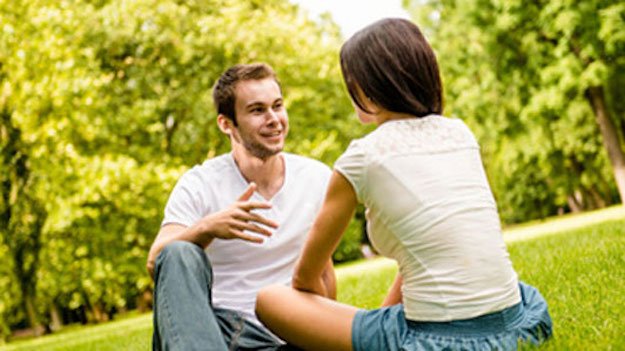 Don't stress out and over-plan. Yes, girls enjoy the attention. They want to feel special. Need not mean you go over board by bringing in singers, dancers, musicians. No. Keep it a private affair, let the focus be just you and her. Keep it simple yet elegant and charming. Nothing loud. Unless, you have a girlfriend who enjoys and fancies that. Keep her personality in mind. This Valentine's day, plan a meeting at the same place where you met for the first time and speak out your feelings.
4. How about a Valentine's day wearing "Will you marry me?" T-shirt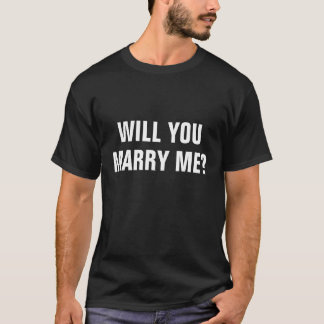 Straight and simple. Just go ahead with this casual T-shirt and impress her with this unique Valentine's day proposal. If she has a "Yes" then celebrate, if "No" then pretend like it's just a casual style statement. Grab a bunch of red roses behind you. You're on the safer side here. 
5. If you are bold enough then go with a Banner Proposal
If you have the gut feeling that she'll say yes, then go ahead with this idea. Get a banner prepared with the word 'Will you marry me' or 'I Love You' and display it outside her house or workplace. Sincere advice: Try this only if you're that she's not going to reject you.
6. Text it to her in a foreign language at midnight of Valentine's day 
Late night chats can be the best way out sometimes. Start texting her with casual chat and type the three magical words in French or Spanish. Let her find out the meaning herself. It needs least effort, but this puzzle works many a times.  
7. Try the most traditional method which never fails
The most tried and tested way of proposing a girl is offering her the finger ring. It always work. After all girls are crazy about jewelries 😉 
8. Use your Photoshop skills to show her how you both look together
If you know Photoshop, then editing an image can do the toughest part of sharing your feelings. Just edit your pic together and send it across. Valentine's day could be the best day to do this. Keep your fingers crossed to see the reaction. All the best!
9. Valentine's day proposal in a book is another special idea
You can either create DIY book with the last page having your proposal or get it from any card shop. If you feel shy, then this is the best way to share your feeling for her.
10. In the middle of movie! Sounds great, right?
Suppose you are the Netflix with popcorn couple, you could probably propose her in the middle of your favourite movie – surprise her by adding a short video of you two between the movie and while it starts playing you could propose her. Or, you can simply hold hands and say it while the most emotional scene is on.
Whatever you do, don't let the surprise element smoke away. Make sure to make the day about her, about the "us". Don't forget to make her feel special. Sounds like a task. In the end, it is all worth it.