Hey cat lovers! Here's some hilarious cat Gifs that you would simply love to see. Animals, especially cats, are real friends of man in boredom. If you don't agree then just scroll down. I bet you're going to hold your tummy laughing out loud. These cute little kitties have tried their best to make you laugh. These cat Gifs are simply going to make your day.
If you are tired or bored of your hectic day out there, you need some "Humor" tonic to release your stress and freshen up. What can relieve your stress more easily than having a pet animal beside you that expects nothing from you than a bit of love. And, cats are the cutest pals anyone can have. You must see these funny cat GIFs to believe it. 
Check out these hilarious cat GIFs that will make you ROFL. Scroll till the end to have a happy ending and a delightful day.
1. Catch me if you can baby!
This is one of most hilarious cat GIFs with jumping and running kittens.
2. Awww!! Sweety I owe you a hug!
Cats love to cuddle with their buddies. These funny cat GIFs reveals it clearly. 
3. Don't you dare mess with me!
Hey! Stop where you are. Looks like real hefty muscles. 
4. Poor guy! Desperately waiting for her to sleep.
The most obedient and submissive kitten in the world. Do you want it?
5. How's my New Avatar babes?
Hold on! This funny cat GIF is trying to convey some message. Getting it?
6. Stay Away! I'm the Kung Fu expert
Martial arts is not limited to human beings buddy. Check it out!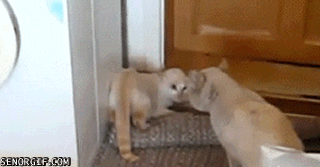 7. Please Mommy, don't say NO!
Seems like trying to butter the Mommy cat for something.
8. Spare my plate Buddy!
No, I hate sharing my food with anyone. Really?
9. Touch me not, I am 440 Volt 
Beware! This cat seems to have current in her body.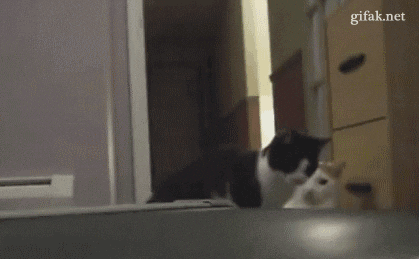 10. No idea what's in her mind!
Can you guess what's the matter with this hilarious Cat GIFs?