Wondering what sleeping gadgets can do? Insomnia and restlessness have become a global problem. Now a days people get less than  the recommended amount of sleep. According to Gallup poll, 40 percent of Americans are affected by poor or insufficient sleep. Sleeping disorder is becoming more and more common in our society. If you also count in, then worry not. Smart sleep technology has stepped in to ease your life with marvelous sleeping gadgets. 
Medical science recommends 8 hours of sleep to keep your body functioning properly. Proper sleep makes your body productive which leads to a healthy life. On the other side, lack of sleep drags you into bigger health risks. It may lead to various chronic heart complications such as Irritability, Heart attack, Heart failure, Irregular heartbeat, Hypertension, Stroke, Diabetes etc. Libidos and low testosterone levels are the most common problems among sleep-deprived men and women. Without adequate rest or sleep, our brain operates less effectively.
Smart Sleep Technology
We can see advancement in technology continuously intervening into our daily life activities. Smart sleep technology is all set to play a vital role in improving the quality of sleep. After years of sleep studies like Polysomnograms, multiple sleep latency testing (MSLT) and maintenance of wakefulness testing (MWT), sleeping technology has come up with plenty of solutions to overcome sleeping disorders with the help of electronic sleeping gadgets.
Sleeping Gadgets
Right from smart alarm clock to smart bed, there are many sleeping gadgets available in the market today, such as:
Mattress
Pillow
Snoring solution
Alarm clock
Sleep monitor
Headband
Smart Sound masker device and many more.
Different Smart Sleep Gadgets
Check out these promising smart sleeping gadgets that have been introduced recently to simplify your life. Here you go!
Nokia Sleep
Nokia has introduced a dedicated advanced sensor placed into a Wi-Fi enabled mattress pad. This sensor performs sleep cycles scrutiny, heart rate monitoring and snore pattern recognition. The collected data is then synced with Nokia patent health app – Health Mate. The gadget is also capable of controlling lights and temperature inside bedroom by using an automation service IFTTT (if this, then that). It's very simple to use. Just place the device below your mattress and find all data when you wake up.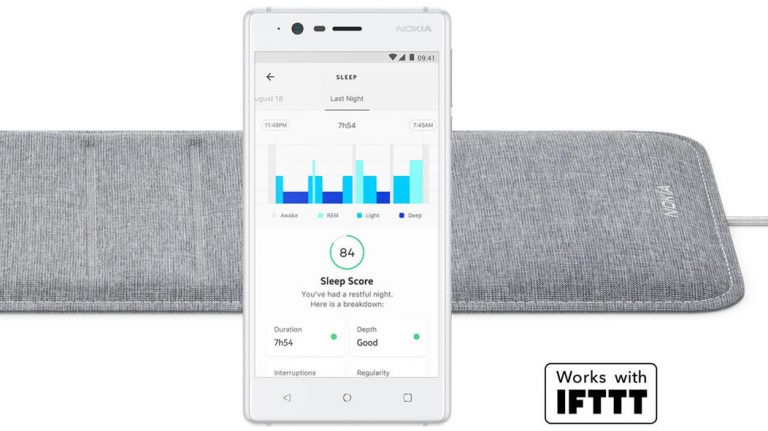 The significant features include:
Tracks sleep cycles
Monitors heart rate 
Records snore patterns 
Adjusts light and temperature with inbuilt sensor
SleepScore Max
This is a contactless sleeping technology based tracker which looks like a speaker. The best part that makes the device an excellent 'must have' gadget is that you don't have to wear it or place it in your bed. You can conveniently place it at any corner of your bedroom. The gadget records the quality and quantity of your sleep. When you place this radio-waves based gadget around your sleeping spot, it starts recording the time you fall asleep, time spent in total sleep (light sleep, deep sleep, REM sleep) and number of times you were awakened during your sleep cycle.
The SleepScore Max comes with the following features: 
Equipped with light and temperature sensor.
Compatible with all high end iOS and android based mobiles, including Google Pixel.
Records the time of falling asleep and total sleeping time
Tracks the number of times you awake up during a sleep cycle
 Philips SmartSleep
SmartSleep first showed up at CES 2018 in Las Vegas. Philips has tried its hands in the field of smart sleep technology by introducing a Smart Headband made of soft fabric. You simply need to wear it while you plan to sleep. This gadget tracks the brain wave activity. When you fall asleep, it detects the low waves. With the help of embedded neurology based algorithms, it starts playing white noise patterns through integrated speaker. The timing and volume is customized to boost slow waves.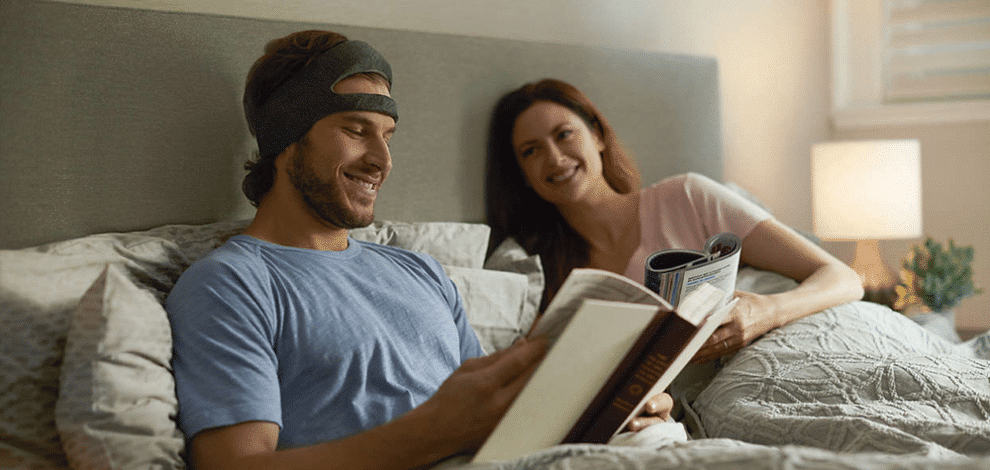 Zeeq Smart Pillow
Are you suffering from a snoring phenomenon? Yes! this Smart Pillow is then made for you. 
REM-Fit, a lifestyle bedding brand, came up with a smart technology based Zeeq Smart Pillow to help you relax by controlling bad snoring. Instead of placing it on your wrist or wearing it on head, Zeeq places the sensor inside your most comfortable pillow. It monitors your movement and the volume of snoring. And, with its anti-snore alarm, the pillow gently vibrates when your snoring reaches a preset level, making you change your position and enjoy a sound sleep. 
The encapsulated features inside Zeeq Smart Pillow include:
Wireless Music – you can listen to your favorite number
Sleep Analysis
Partner friendly alarm
Sleep motion reading
Music sleep timer
Snore alarm and smart alarm
Made up of a foam outer shell 
Smart Bed-Sleep Number 360
Sleep Number, the US-based manufacturer of sleeping accessories, has introduced an overhauled SleepIQ-based Smart Bed. This is far different from your regular bed with DualAir adjustability. The bed adjusts itself by observing your sleeping positions to offer you maximum comfort. It elevates your head in case you start snoring.
The features include:
Monitors heart rate
Records breathing pattern and movements
Figures out how well you sleep
Gives foot warming facility
The bottom line of the story is that money can buy sleep too!