Goa's biggest tug indisputably is its virtually incessant string of golden-sand beaches. This shimmering coast stretches along the Arabian Sea from the tip to the toe of the state. The smallest state of the country has something for every tourist: best beaches and parties; reviving meditation and yoga centres; music festivals and then there is Shigmotsav festival. It turns Goa a lot more convivial. This time round plan your trip in March during Holi for India's happy place.
You May Also Like: 24th SAG Awards- 2018's Most Happening Award Show of Hollywood
Why is it celebrated?
Shigmotsav honors the homecoming of the warriors who had left at the end of the Dussera to fight the invaders. Not only this but also, it is the spring festival of Goa where farmers celebrate the harvest season. With the advent of spring, Goa is set to bid goodbye to winter and primed for the most vibrant and happening Shigmotsav. Myriad hues of colors and gaiety, the Goan soil is soaked with euphoria in anticipation for one of the biggest festivals in the city of beaches. The cheerful fun festival apparently lasts for 14 days, exhibiting the diversity of Goan ethnicity and mythological beliefs. 
When does Shigmotsav begin?
Shigmotsav falls in the month of Phalguna (March) starting from the 9th moon day and lasts till the full moon day according to Hindu calendar. The 5th day of the festival is called 'Rang Panchami' which is celebrated like Holi, people play with 'Gulal' or red powder. The inhabitants dress themselves in most colorful attires and start the celebrations in a festive mood with processions of multi-colored flags, music, and drums. There's great pomp and show on the streets and people gather at temples, dancing and singing folk songs in full vigor.
Why should you not miss it?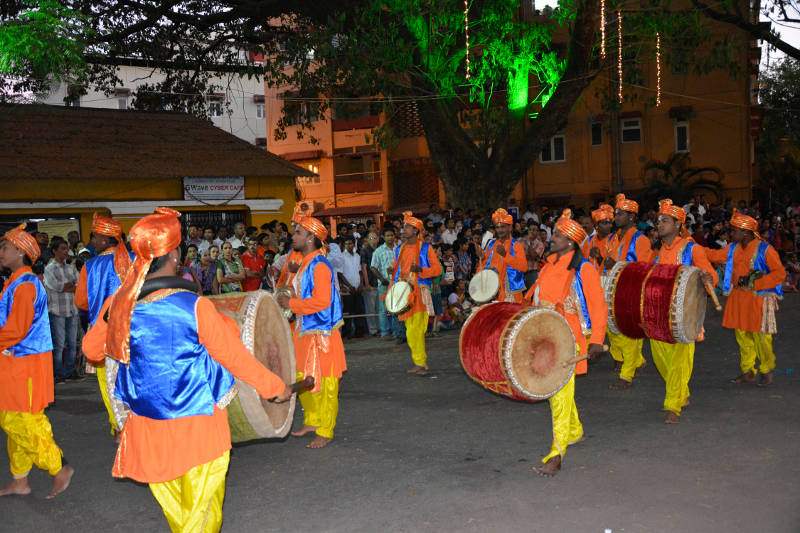 The festivity in Goan air is a reason enough for you to not miss this vivid side of Goa. Not only do you get to witness Goa's ethnicity and culture but also you get to be a part of various events during this festival; interacting with the fellow localites is a bonus. The festival makes sure to preserve and promote Goan art, culture and tradition. It is a brilliant example of India's diversity. Some title it as the Hindu version of Goa Carnival, however this is the aboriginal festival of Goa. In the villages of Goa, it is celebrated in even more traditional ways with children performing and asking for gifts in lieu of their performance.
During this festival, famous temple "Yatras" are held. One would witness a parade with colorful umbrellas or as they call it Dindis, modern floats depicting ancient Hindu mythological episodes that will enthral you, and folk dancers in traditional costumes. Musical instruments like drums, flutes and dhols are also part of the parade, and so are indigenous folk songs and dances. One of the dances performed is the Ghode Morni or the Horse Dance and the Phugdi Dance. This parade is performed on the streets of towns and villages in massive troupes alighting the streets of Goa with vibrant performances and chants of 'Har Har Mahadev' resonating the air.
It's a different kind of high: Riding on your scooter along the streets that are a kaleidoscopic blend of Indian and Portuguese. Locals throwing colors on you, greet you with smiles and treat you as one of their own. All this sweetened with sun, sea, sand, seafood and spirituality, there's nowhere in India quite like it.